ILLUSIONI - SPRING/SUMMER 2014
The ILLUSIONI collection contains comfortable summer clothes for kids. They are inspired by old Finnish fairy tails and storybook illustrations. The name has a meaning 'My illusion'. All the products are made from ethically produced organic cotton jersey knitted in Finland. They are hand painted and printed which makes every peace a bit different. Clothes have three practical sizes and they are designed to fit for a long time. All the clothes are made in Finland.
Products can be ordered by email: kauneve@gmail.com. Delivery time is approximately 3-4 weeks.
Illusioni T-shirt
Keiju
Illusioni T-shirt and Shorts
Keiju and Peikko
Illusioni T-shirt
Keiju
ILLUSIONI T-SHIRT, KEIJU
Material
Sizes
Color
Care
Code
G.O.T.S certified organic cotton
80-90 cm
100-110 cm
120-130 cm
White
Wash in 40 degrees Celsius, do no tumble dry, reshape when wet, hot ironing
141111
Illusioni T-shirt
Peikko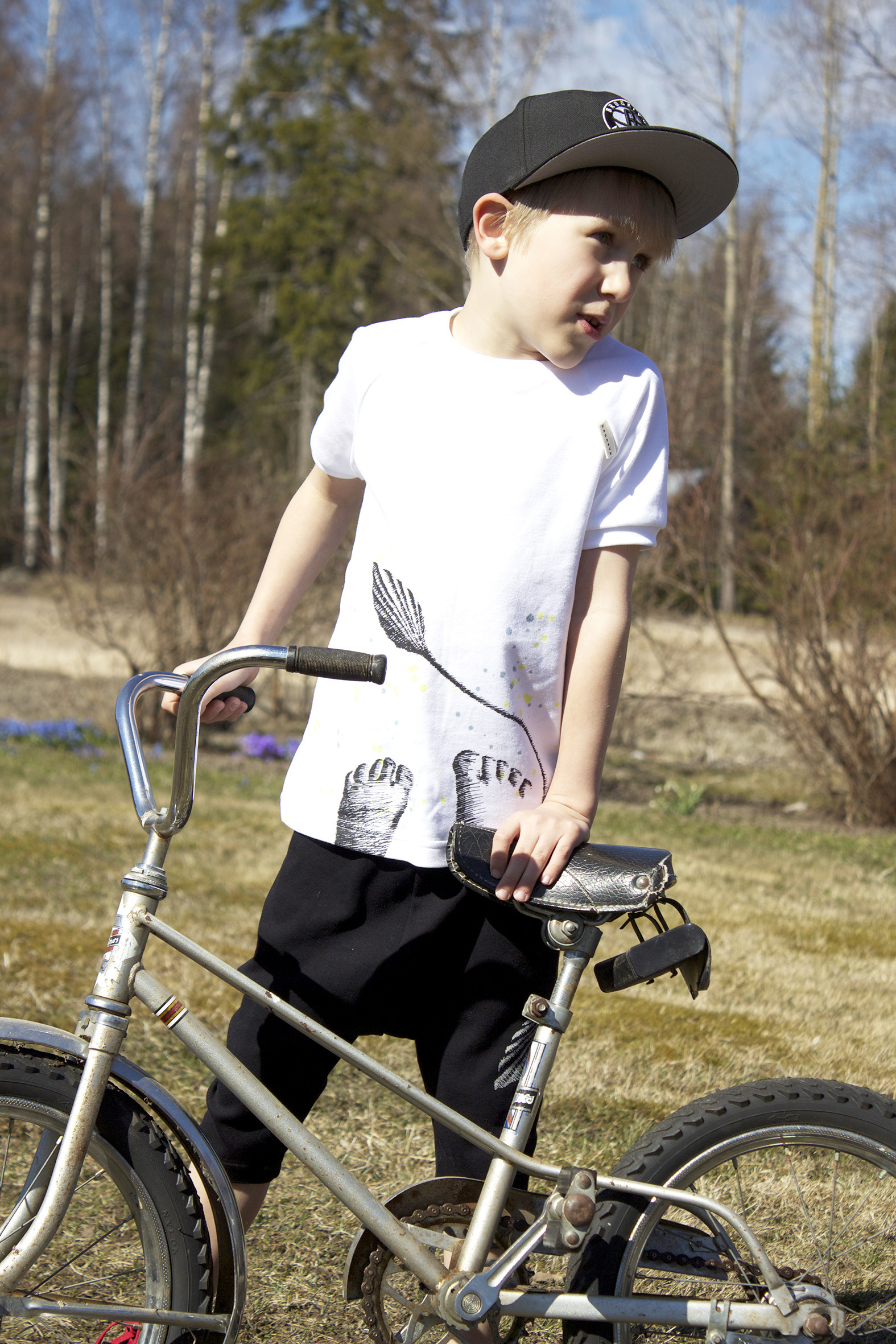 Illusioni T-shirt
Peikko
Illusioni T-shirt
Peikko
Illusioni T-shirt
Peikko
Illusioni T-shirt
Peikko print
ILLUSIONI T-SHIRT, PEIKKO
Material
Sizes
Color
Care
Code
G.O.T.S certified organic cotton
80-90 cm
100-110 cm
120-130 cm
White
Wash in 40 degrees Celsius, do no tumble dry, reshape when wet, hot ironing
141121
Ilusioni Shorts
Peikko
Ilusioni Shorts
Peikko from front
Ilusioni Shorts
Peikko from back
Ilusioni Shorts and T-shirt
Peikko dancing on the roof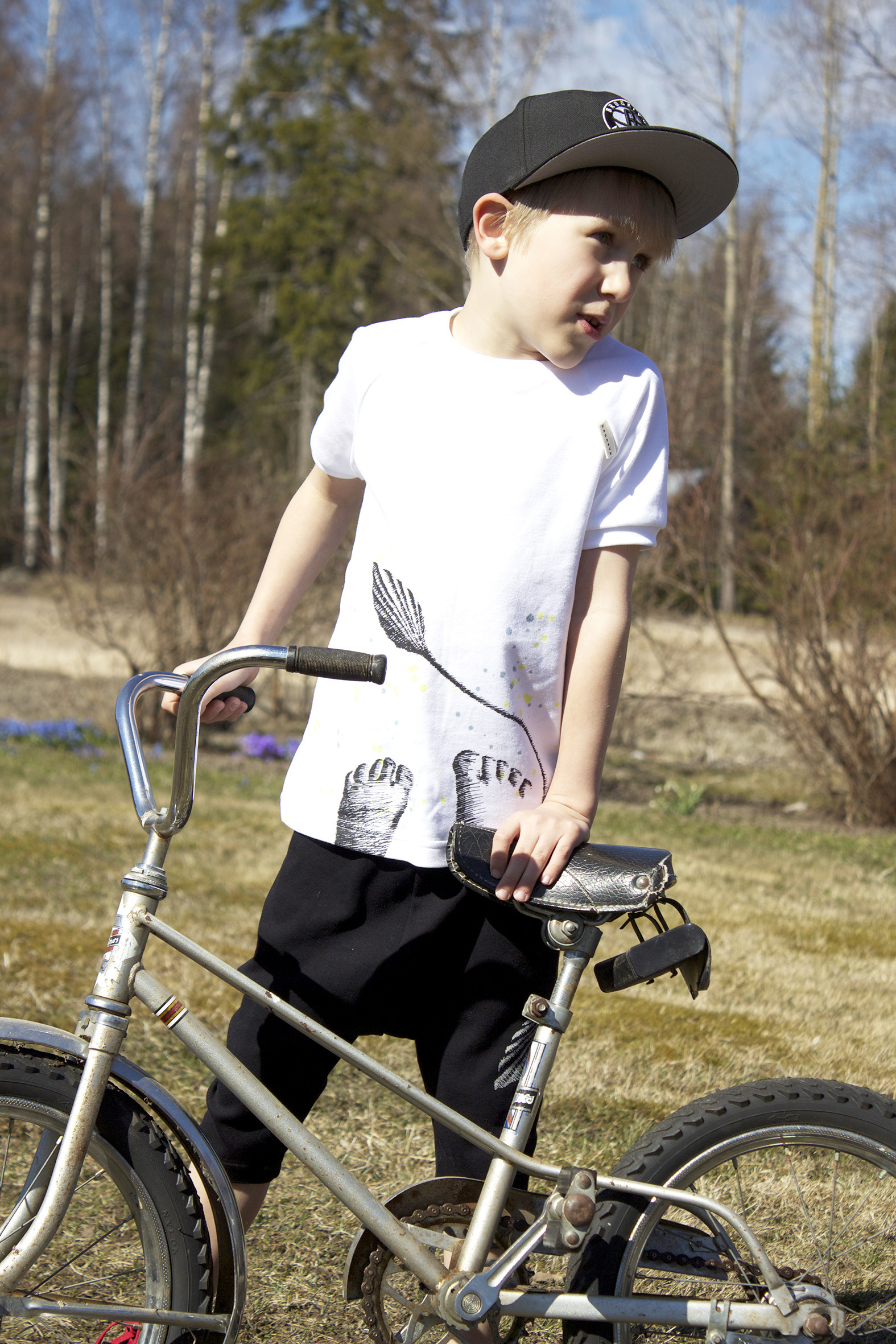 Ilusioni Shorts and T-shirt
Peikko
Ilusioni Shorts and T-shirt
Peikko
ILLUSIONI SHORTS
Material
Sizes
Color
Care
Code
G.O.T.S certified organic cotton
80-90 cm
100-110 cm
120-130 cm
Black
Wash in 40 degrees Celsius, do no tumble dry, reshape when wet, hot ironing
141222
Illusioni Summer Beanie
Peikko black and white
Illusioni Summer Beanie
Peikko white
Illusioni Summer Beanie
Peikko black with tail and toes
Illusioni Summer Beanie
Peikko
ILLUSIONI SUMMER BEANIE
Material
Sizes
Color
Care
Code
G.O.T.S certified organic cotton
48-50 cm (1-2 yrs)
50-52 cm (3-5 yrs)
52-54 cm (6 yr and up)
White, Black
Wash in 40 degrees Celsius, do no tumble dry, reshape when wet, hot ironing
White 141421
Black 141422
Illusioni Dress
Keiju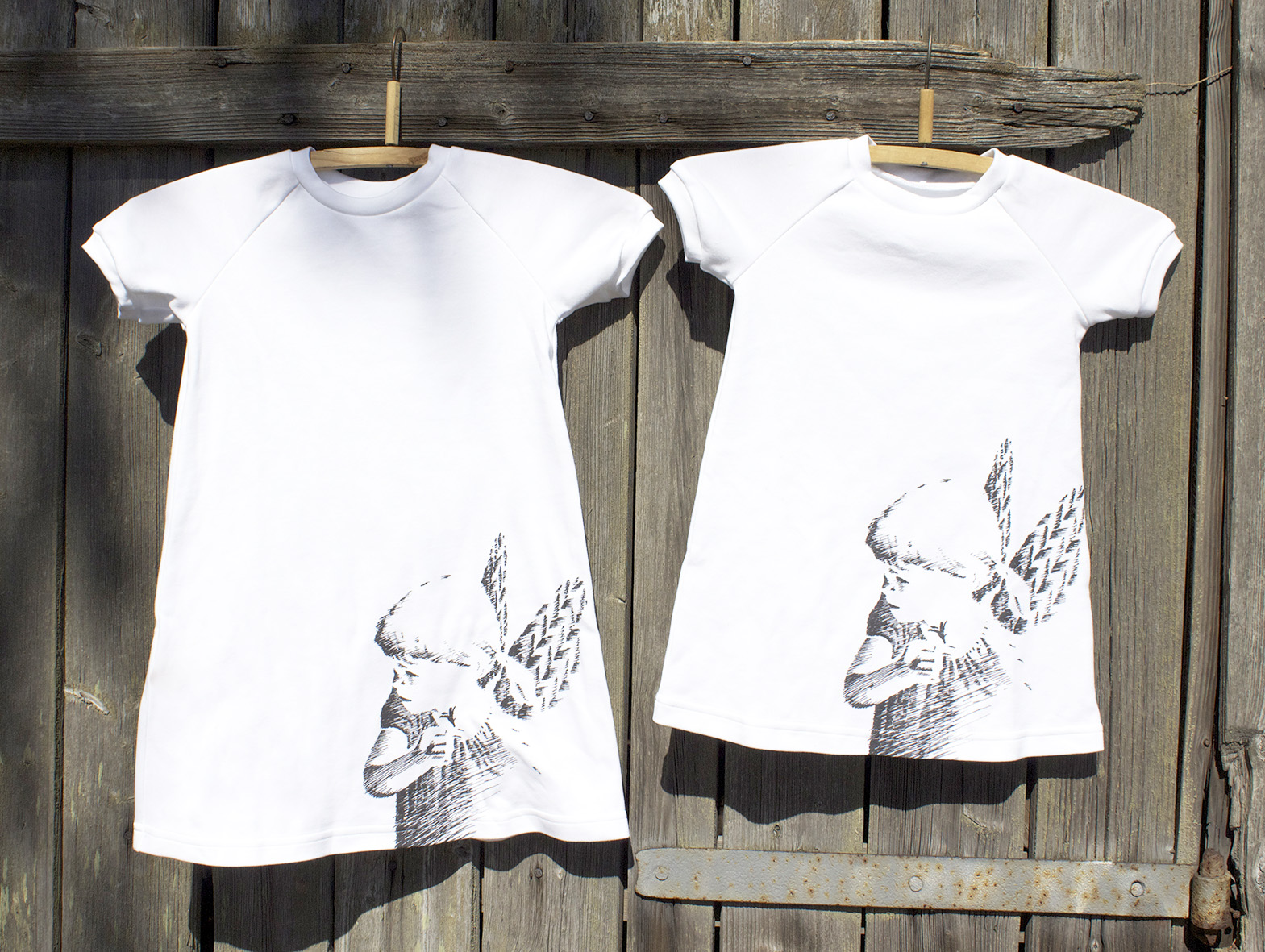 Illusioni Dress
Keiju
ILLUSIONI DRESS
Material
Sizes
Color
Care
Code
G.O.T.S certified organic cotton
80-90 cm
100-110 cm
120-130 cm
White
Wash in 40 degrees Celsius, do no tumble dry, reshape when wet, hot ironing
141311